Charlotte Bonaparte, a Lady of Great Wit
Immagine: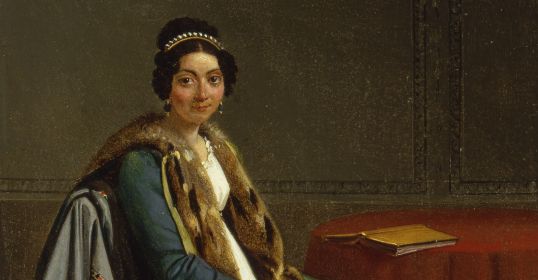 The Romantic Life of a Princess Artist
05/02 - 02/06/2010
Museo Napoleonico
The restless and hard life of Princess Charlotte, Napoleon's niece.
Lover of the arts, the centre of intellectual salons of her day and an artist herself, salonnière and femme artiste, Charlotte was the daughter of Napoleon's elder brother Joseph. During the Restoration, she expressed an open and cosmopolitan culture supported by a network of exchanges and relations with personalities from the world of arts and culture.
The Napoleonic Museum in Rome preserves one of the most important albums of Charlotte, which contains drawings, watercolours, engravings, as well as works of her husband Louis Napoleon and of the many artists she met in France, Italy (in Rome and in Florence) and during her many trips abroad in Germany, Belgium, England and the United States.
These albums are the core of the exhibition "Charlotte Bonaparte dama di molto spirito. La romantica vita di una principessa artista" (Charlotte Bonaparte, lady of great wit. The romantic life of a princess artist) currently being held at the Napoleonic Museum from 5th February to 18th April 2010 and promoted by the Municipality of Rome, Department of Cultural Policy and Communication, the Superintendence of Cultural Heritage of the City of Rome. The exhibition is the fruit of collaboration between the Napoleonic Museum in Rome, the Museo Nazionale delle Residenze Napoleoniche dell'Elba and the Musée National des Châteaux de Malmaison et Bois-Preau, where the exhibition will be held afterwards. Also on display are works by masters such as David, Stapleaux, Benvenuti, Pinelli, Cromek, Gherardi, Jesi, Robert, Bartolini, and Tenerani. The curators of the exhibition are Giulia Gorgone and Maria Elisa Tittoni, who are also the editors of the catalogue published by Sillabe.
The exhibition is arranged in chronological order, going through the different stages of her restless, troubled and short life. From Charlotte's childhood – together with her older sister Zenaïde amidst court obligations and desires for a quiet life – evoked by Charlotte's drawings and her official portraits by Wicar and Lefèvre, to the years of exile in Frankfurt and Brussels, key moments in Charlotte's development as an artist: in the Belgian capital, as a matter of fact, she studied drawing with David, who portrayed her and Zenaïde at the time. As she went to the United States to join her father, who was in exile in Philadelphia, Charlotte attended the local Academy of Fine Arts. On her return to Italy she spent her time between Rome and Florence and in 1833 she went to London in 1833 to take part in a family reunion organised by her father. These latter years were particularly important for her artistic development, given the presence in her albums of work by popular Italian and other artists.
The exhibition dedicated to Charlotte Bonaparte (1802-1839) reveals a portrait of an intelligent and cultivated woman, whose gentle and sensitive nature is still largely unknown. A princess who played an important role in Bonaparte family during the difficult years of exile, she was aware of her imperial descent, but she loved also the company of intellectuals and artists who enriched her cultural and human background.
Information
Opening hours
Tuesday-Sunday from 9.00 a.m. to 7.00 p.m.
Last admission 1/2 hour before closing time
Monday Closed
Extended to May 30, 2010
Type
Exhibition|Modern Art
Organization
Zètema Progetto Cultura.
With technical contributions from
Curator
Giulia Gorgone e Maria Elisa Tittoni
Catalogo
Gorgone G.; Tittoni M. E.
2010, 240 p., ill., brossura
Eventi correlati
Currently there are no ongoing activities.
There are no planned activities.
There are no archived activities.