Room V - The Roman Republic
In 1796 the French army led by the young general Napoleon Bonaparte, fresh from brilliant victories in Piemont and Lombardy, invaded the Legations of Ravenna, Ferrara and Bologna. Pope Pius VI was compelled immediately to sign the Armistice of Bologna, ratified the next year by the Peace of Tolentino, which obliged him to hand over 100 works of art and 100 manuscript books from the Vatican Library.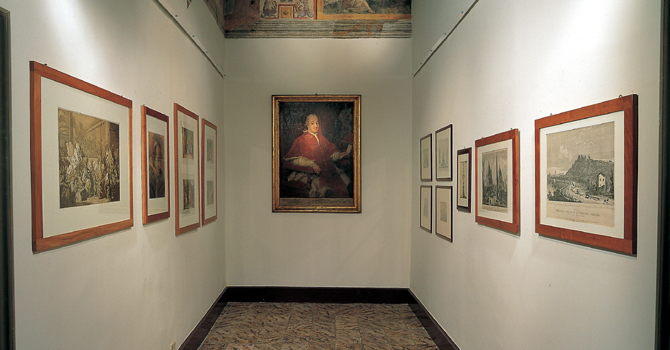 On the 28th December 1797, the murder of General Duphot during an anti-French popular uprising gave the Directoire the opportunity to begin a military occupation of Rome. On the 9th February 1798, the French army entered the city in triumph at the Piazza del Popolo; on the 15th the Republic of Rome was declared. The jacobin experience was brief, but involved intense propaganda, which was most garishly expressed in Republican festivals. For the second anniversary of the Republic numerous public ceremonies were organised, which reused and reworked models and themes which has been tried out during the French Revolution. Several prints on display in the Room give an accurate description of the huge and ephemeral stage sets created for these Republican celebrations.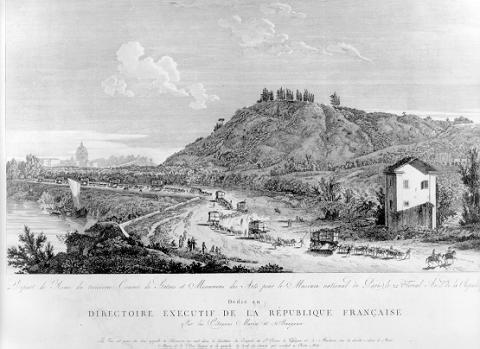 Joseph-Charles Marin (attivo XVII-XIX sec.) - Jean Jérôme Baugean (1764-1819)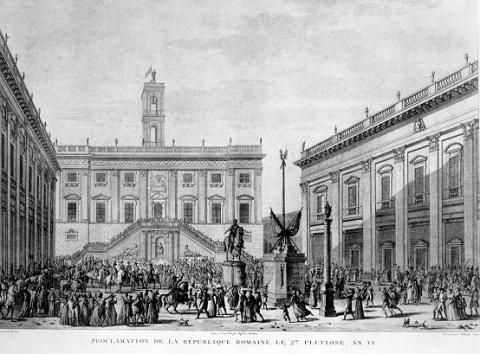 Jean Duplessi-Bertaux (1747 - 1819) e Robert Delaunay (1749 - 1814)