Minute Visioni
Immagine: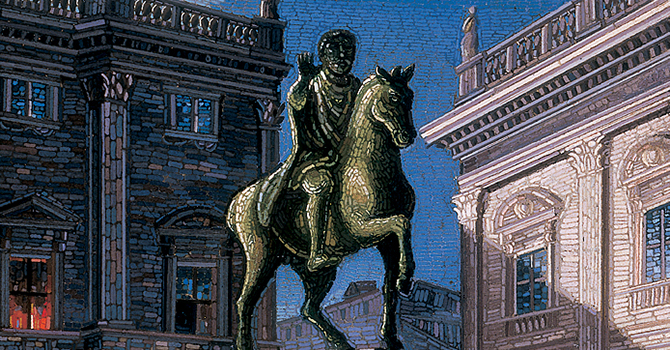 25/06/2016 - 24/09/2017
Museo Napoleonico
The Napoleonic Museum dedicate the exhibition "Minute Visione" dedicated to the roman micro-mosaics of the XVIII and XIX century from the collection of Ars Antiqua Savelli, one of the most important collection of the micro-mosics in international setting.
The micro-mosaic is a typical roman technique. It reached its peak at the end of the XVIII and the half of the next century when it production was destined to the foreigners traveler of the Grand Tour.
The art shops and the art studio were located between Piazza del Popolo and Piazza di Spagna and in there worked a lot of important Art Masters of this technique, such as Giacomo Raffaelli, Antonio Aguatti, Clemente Ciuli, Luigi Moglia, Gioacchino e Michelangelo Barberi, Guglielmo Chibel.
In the exhibition are shown about hundred objects that show the evolution of the micro-mosaic through the topics of the age: roman views, Grand Tour landscape, animals and nature.
For the exhibition are scheduled meetings with an artisan specialized in micro-mosaics who will explain the secrets of this ancient technique.
Information
Opening hours
From Tuesday to Sunday  h10 - 18
24 and 31 December h10  - 14
Ticket-office close half hour before
Days closed: Monday, 25 December
Please Note: please check our Notice page for special openings and/or temporary closures
Information
tel. 060608 (h. 9-19 everyday)
Type
Exhibition|Applied Arts
Organization
The exhibition, promoted by Roma Capitale - Sovrintendenza Capitolina ai Beni Culturali, organized by Società Mosaici Artistici with the support of Zètema Progetto Cultura.
Sponsored by
MasterCard Priceless Rome
With technical contributions from
Media partner
Il Messaggero
Curator
Fabio Benedettucci, Maria Grazia Branchetti e Marco Pupillo
Catalogo
2004, 159 p., ill., brossura
Editore:
Gangemi (collana Arte, arredamento, disegno)
Eventi correlati
Currently there are no ongoing activities.
There are no planned activities.