Madame Mère
However, the most important and the most famous of the Bonaparte residences was the palazzo on the corner of the Via del Corso and Piazza Venezia, which Letizia, Napoleon's mother, bought in 1818 after selling her French property, and which still bears her name. Madame Mère, as she became known, lived there until her death in 1836, occupying the first floor, while the second floor was available for her various relatives, who periodically came to visit her. The palazzo, which had once belonged to the D'Aste family, who had commissioned from the architect Giovanni Antonio De Rossi in 1658, had passed to the Rinuccini family in the mid-eighteenth century, and was suggested to Letizia by her banker Duke Giovanni Torlonia, as not excessively grand, by gracious and attractive.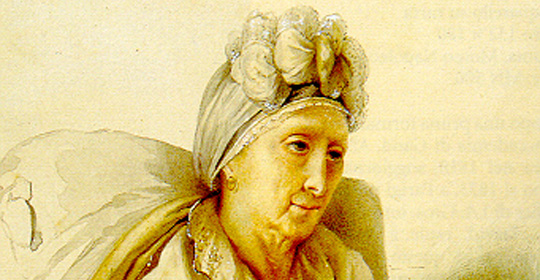 Various decorative elements of the facade pertain to the Bonaparte period, such as the inscription in the turret frieze or the imperial eagle above the central window of the main floor, and, an element characteristic of Letizia and closely connected to her memory – she was accustomed to pass time taking the air and watching the view of the Via del Corso – the corner balcony in green dyed wood. Much of the interior decoration also go back to these years: the floors in battuto veneziano tiles, with the letter B at the centre, the elegant marble mantles in neo-classical style, or the frieze in the antechamber, the pictures in the Reception Room, the suit of armour and the elegant grotesques inside the covered balcony. At the top of the stairs stands a large plaster model of Canova's statue of the emperor, donated to Letizia by the artist himself. panoply
Napoleon's mother spent her years in Rome until 1821 incessantly seeking any way to alleviate the isolation and hardship of her son's imprisonment on Saint Helena, and subsequently in the tranquillity of her circle of close friends and relations, with the exception of any English visitors. In her apartment, and particularly in her bedroom she lived as in a shrine to the memory and past glories of her family, with the presence of relics and images to soften the pain of separation and distance.