Napoleon on the field of Wagram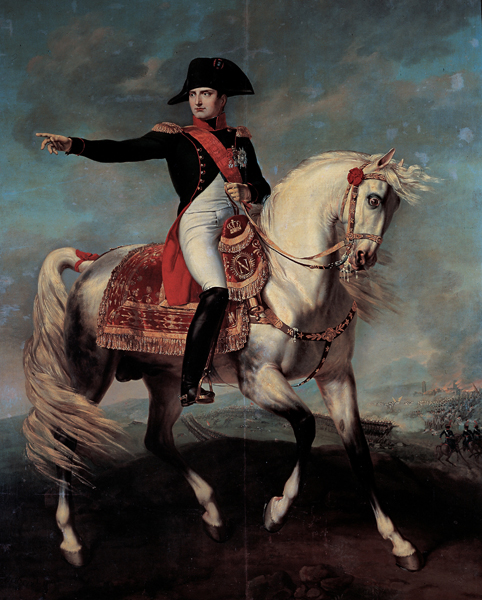 Author:
Joseph Chabord (Chambéry 1786- Parigi 1848)
On high ground, dominating the plain of Wagram, the scene of the battle that took place from the 5th to the 6th July 1809, the figure of Napoleon sits erect on a rearing horse. The emperor wears the uniform of a Colonel of the Light Horse with the medals of the Legion of Honour and the Crown of Iron. The placing of the group of cavalry riders, contrasted with the small figures of the soldiers in the background, accentuates the heroic character of the charismatic general who dominates the events. The celebratory nature of the painting, which celebrates one of Napoleon's last great victories, is probably due to an official commission. The painting was in the collection of Hortense de Beauharnais in Arenenberg, where the ex-queen of Holland lived from 1817 to 1837, the year of her death. It remained there until 1905, when the last owner of the castle, the ex-empress Eugenia, the wife of Napoleon III, gave it to Count Giuseppe Primoli.
The hall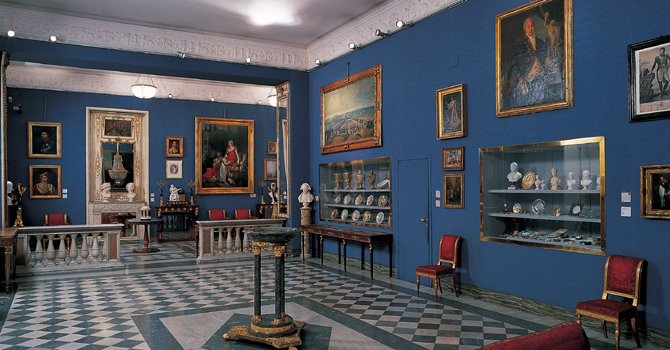 The first two rooms, divided only by a marble balustrade, form a unique area dedicated to the splendour of the First Empire (1804-1814). Here are collected the large canvases which depict numerous members of the imperial families in noble and conventional poses. Next to these official portraits, commissioned by Napoleon after his consecration as emperor, are displayed the private portraits, which, through the waxesof Giambattista Santarelli, enamel miniatures, cameos by Nicolò Morelli, and snuff boxes, give a more intimate portrait of the Bonaparte family's history.
You may also be interested in