The Emperor Napoleon III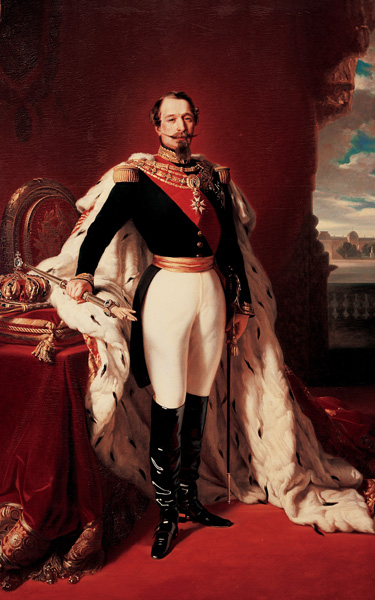 Author:
Franz Xaver Winterhalter (Menzenschwad 1805 - Frankfurt 1873)
Next to the draped table on which are displayed the imperial crown and the sceptre, stands the emperor, in full dress uniform, against which stand out the collar of the Legion of Honour, held in his right hand, the "hand of justice". As with the portrait of the empress Eugenie, which was the pendant piece to it, this is the official portrait of Napoleon III. Both the paintings were commissioned from Franz Xaver Winterhalter – who had won the title of "portraitiste des têtes couronnées", having already created numerous portraits for the monarchies of Europe, particularly France – by Louis Napoleon, shortly after he was proclaimed emperor with the title of Napoleon III in the 1st December 1852. One year previously (on the 2nd December 1851) Louis Napoleon, who at that time was President of the French Republic, had brought about a coup d'etat demanding a decade of presidency for himself; on the 7th November 1852, a decree of the senate proposed a plebiscite on accepting "the re-establishment of imperial dignity in the person of Louis Napoleon". It was passed with 7.824.129 votes for, 2.062.798 abstentions and 235.145 votes against. The empire of Napoleon III lasted almost twenty years: on the 3rd September 1870, after the surrender of Sédan, the end of the imperial rule was declared. Napoleon III died in Chiselhurst, in England, where he had chosen to live out his exile together with his wife, his son and a small court.
The hall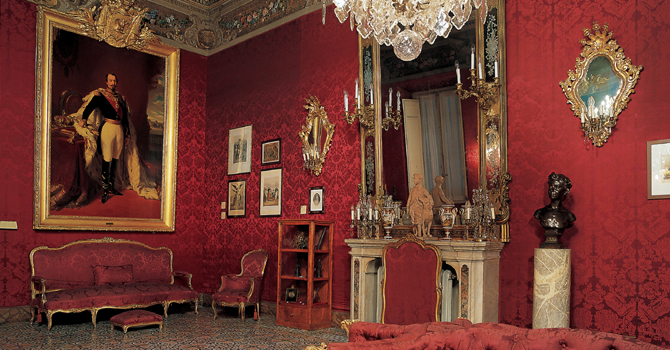 In this room, dedicated to the Second Empire (1852-1870), are displayed paintings, sculptures, engravings, furniture, and other objects from the period of French history in which Napoleon III predominated. They exemplify the great ferment of artistic production which took place under the reassuring motto "The Empire is Peace". 
You may also be interested in