Queen Caroline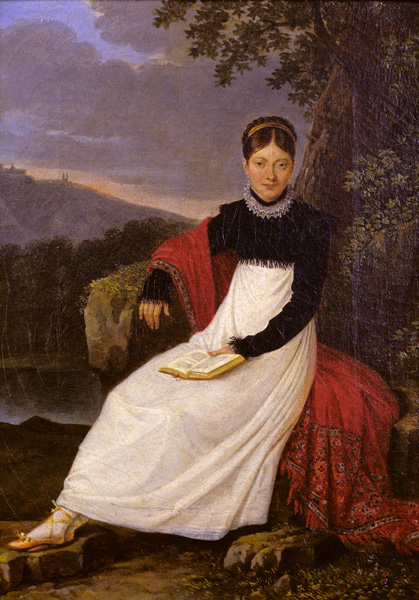 Author:
Giuseppe Cammarano (1766 - 1850)
Origin:
Palazzo Primoli, Collezione privata Primoli Giuseppe (fino al 1927)
Il dipinto è racchiuso in una cornice di legno intagliato e dorato. Sul retro della tela è incollata la targhetta: "Società di Storia Patria".
Carolina Bonaparte è raffigurata, a figura intera, seduta sulla cavità naturale di uno sperone di roccia, sullo sfondo di un paesaggio marino. Nella mano destra tiene un libro aperto. Indossa un leggero abito bianco, con il corsetto coperto da un corto giacchino (canezou) in un tessuto più pesante e di colore scuro; scarpine rosa, basse, legate alla caviglia con nastri secondo la moda del tempo. L'acconciatura semplice presenta una treccia che gira sulla sommità del capo, due bande lisce divise da una netta scriminatura incorniciano la fronte.
The hall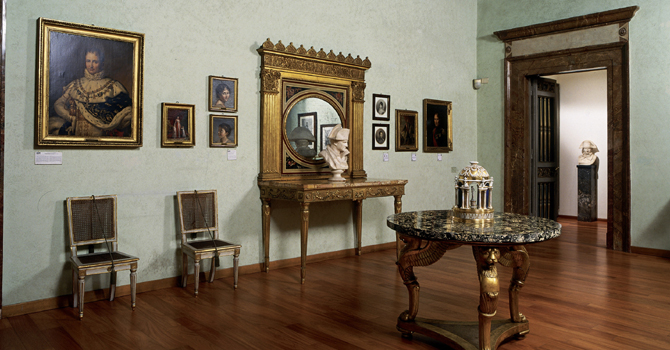 In these rooms are displayed objects related to Joseph and Caroline Bonaparte, Napoleon's brother and sister, who held to the throne of the Kingdom of Naples one after the other. Napoleon gave the throne initially to his older brother, the submissive Joseph, who reigned there from 1806 to 1808. During this period Jean-Baptiste Wicar, then the Director of the Academy of Fine Arts of the Neapolitan cities, created portraits of Joseph, his wife Giulia Clary and their two children Zenaide e Carlotta.
You may also be interested in